Working together to improve frontage road safety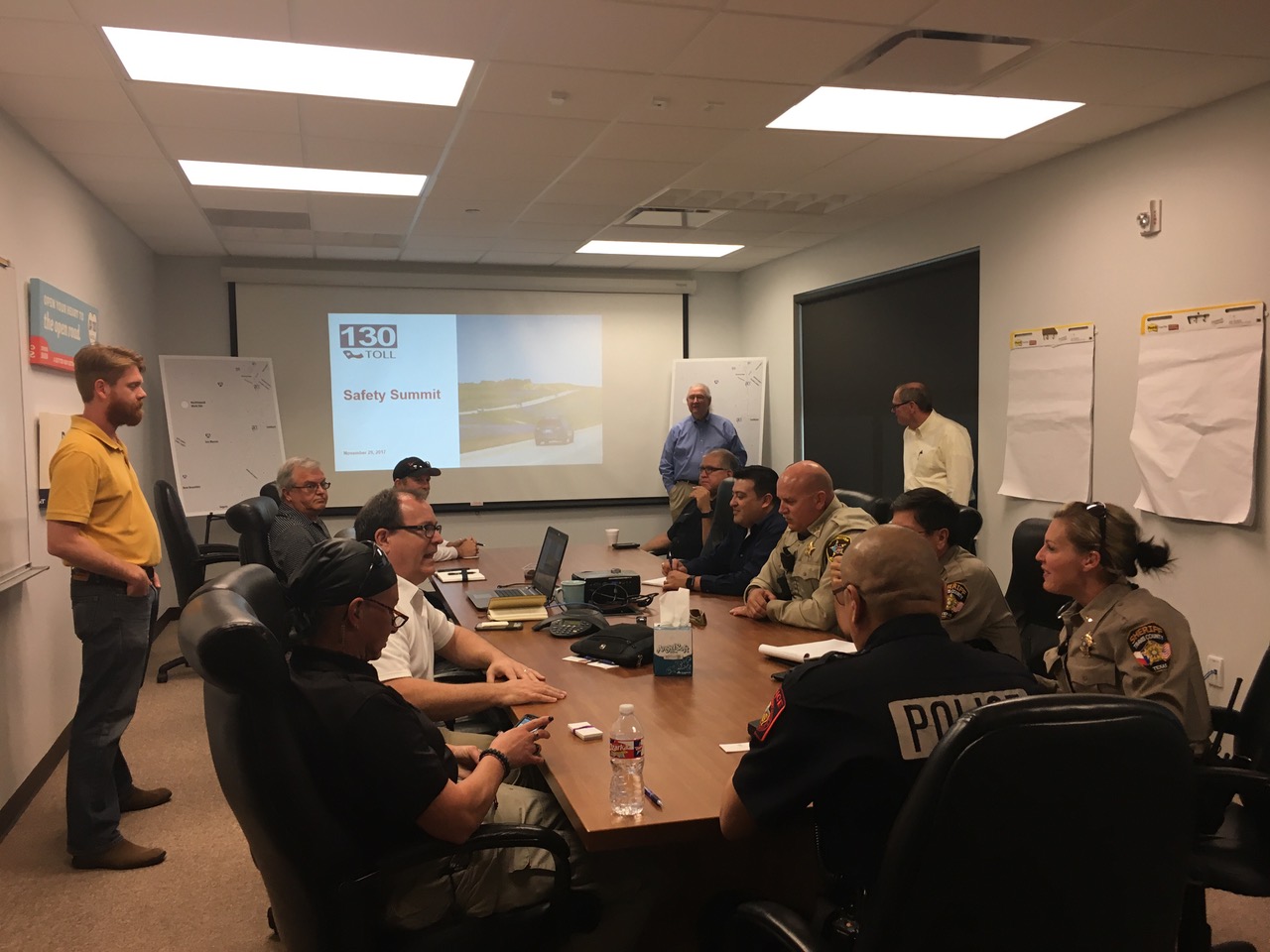 SH 130 Concession Co. is best known for operating and maintaining the southern section of the SH 130 toll road, but we also operate SH 183, SH 142 and the county roads that make up the frontage road system that runs parallel to the facility from SH 45 to CR 217.
Although the 65 mph speed limit is lower on these non-tolled lanes, the number of accidents is higher due to the number of intersections with conflicting and often slower moving traffic along county roads, driver inattention and speed.
More than 150 major crashes occurred along the frontage roads in dry conditions between January 2014 and October of this year. About half of these major accidents, which resulted in injuries or more than $1,000 in property damage, were one-car crashes caused by excessive speed and/or driver inattention.
Another 20 major crashes occurred during this time in wet conditions, most of which also involved only one car.
Last week SH 130 Concession Co. convened our first Safety Summit with public safety agencies, first responders and elected officials from along the SH 130 Corridor to share information and discuss ways to improve safety along the frontage roads.
At the summit, we shared the many steps our company has already taken to improve frontage safety since new management took the helm in June. Those measures include:
Installing oversized STOP signs at FM 1185
Installing rumble strips at FM 2001, SH 142 and FM 1185
Relocating guide signs to eliminate potential obstruction of STOP signs at FM 1185
Replacing black on white "cross traffic does not stop" signs with black on yellow signs to increase visibility
Replacing "signal ahead" signs with "intersection ahead" signs
Replacing all pavement markings to improve retro-reflectivity
We also received valuable insights on safety concerns and ideas for improvement from our partners attending the meeting, including representatives from: Caldwell County, the Caldwell County Sheriff's Office, the Chisholm Trail Fire Department, the HNTB engineering firm, the Lockhart Police Department, the Mustang Ridge Police Department, the Travis County Sheriff's Office and the Texas Department of Transportation (TxDOT).
SH 130 sincerely appreciates the participation of everyone who attended. We also appreciate the shared commitment of each of these participants to continue working together and meeting regularly to further improve safety along the frontage roads.
Over the next month, we'll be working together to identify ways to improve in three key areas:
Engineering – How can we make the roads safer by design, including better signage, improved site distances or adding new elements such as concrete medians and curbs to better channel traffic in problem areas.
Education – How can we more effectively communicate and educate drivers about road conditions, intersection shapes and traffic flows?
Enforcement – Are there targeted operations, joint actions or more focused enforcement activities that public safety agencies could undertake to reduce incidents in problem areas?
We are excited about this joint-initiative and hope to have a shared strategy and action plan early in the New Year.
Stay tuned for more information. In the meantime, stay alert and drive safely.