About SH 130 Segments 5 and 6
The 41-mile southern section of SH 130 is a publicly owned toll road that is privately operated and maintained by SH 130 Concession Co.
Extending from just north of Mustang Ridge at SH 45SE to I-10 in Seguin, SH 130 segments 5 & 6 connect to the northern segments of SH 130 that begin in Georgetown, forming a 91-mile safe, fast and reliable alternative to congested I-35 through Central Texas.
Opened in 2012, the $1.35 billion facility was built and financed by the SH 130 Concession Company, which operates and maintains the roadway under the terms of a 50-year Facility Concession Agreement with the Texas Department of Transportation (TxDOT).
TxDOT oversaw all right of way acquisition procedures, and the State of Texas is the record titleholder to all of the right of way and roadway acquired for this project.
SH 130 segments 5 & 6 has the highest legal speed limit in the nation at 85 mph and the use of open tolling allows tolls to be charged without drivers having to slow for a toll booth.
Drivers can pay their tolls by mail or receive a discount by using a TxTag, Dallas TollTag or Houston EZ TAG.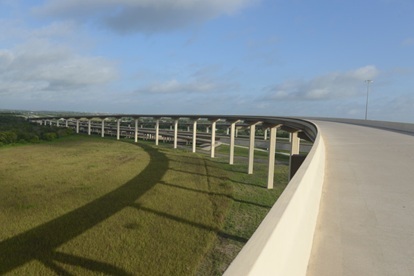 Total length of SH 130 Segments 5 and 6
Segment 5: From north of Mustang Ridge to FM1185 north of Lockhart, following the current US 183 alignment.
Segment 6: From FM 1185 to I-10 northeast of Seguin, along approx. 3 miles existing and approx. 26 miles new right-of-way.
Direct connections:
SH 45 Southeast north of Mustang Ridge
US 183 north of Lockhart and at I-10
of continuous non-tolled frontage roads run from north of Mustang Ridge through CR 218 south of Lockhart (all of segment 5 and part of segment 6).
There are no toll plazas or collectors on segments 5 & 6 of SH 130. Tolls are collected electronically at certain points along the roadway, meaning motorists do not have to slow down or stop.
Minimum of two tolled main lanes in each direction.
Total Investment: including right of way acquisition, utility relocation, improvements to connecting streets/roads and construction.